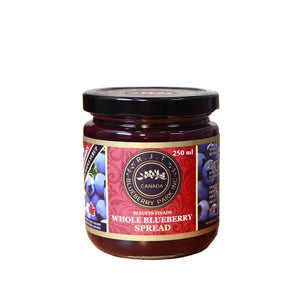 WHOLE BLUEBERRY SPREAD: The blueberries in Whole Blueberry Spread are whole and this Spread is preferred by customers who like its taste and texture. This type of jam goes well with yogurt and ice cream, and is perfect for cooking. 
R.J.T's  90% whole blueberry spread are special and unique because:

1: Made exclusively from mature, Grade A blueberries.
2: Uses maple syrup instead of sugar.

3: Uses natural pectin extracted from the fruit as a thickening agent. 
4: Free of preservatives. 
5: Free of additives. 
6: Made in small batches to ensure quality.